Tribute to Mike John Fusco March 25th, 2022.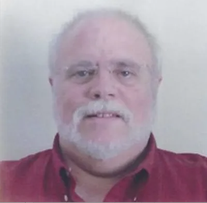 Michael John Fusco of Cornwall-On-Hudson NY, entered into eternal rest on March 25th at Montefiore St. Lukes Cornwall Hospital, Newburgh N.Y..  Mike was 74 years old. 
Michael was born August 29th, 1947 in Manhattan, NY.  Michael retired from the USMA-West Point Chief Of Creative Imaging. He honorably and proudly served his country in the US. Air Force from 1969-1973 during the Vietnam Era.
Mike was a long standing member of the Black Rock Bassbusters Club and a formal Coach and Director of the Instructional Division of Cornwall Little league.
A family statement reads: Mike, Dad, Papa, and Uncle Mike was known for his"wit and strong sense of humor".  He never hesitated to put family first.  He was much loved and will be missed greatly by all his family and friends.
Sweethearts since High School, Michael is survived by his devoted wife of 50 years: Vincenza A. (Bartolone) Fusco; his son Michael J. Fusco and his wife Audrey of New Windsor, NY and their children: Lyndsay Pittman, Allison Paschall, Billy Dratch and Haley Fusco (Toots) and Fiancé Kurt Suffern; son: Stephen S. Fusco and his wife Danielle of St. Cloud, FL.: and their children: Hayden(Peanut) and Tyler(PorkChop) Fusco; much beloved brother-in-law: Frank; sister-in-law: Edith Bartolone; his sister: Nancy Jones; much loved nieces, nephews and their children as well as many cousins and friends.
Mike was a great addition to our Bass Club and well loved by all.  He was our Equipment Director for many years and always had time to volunteer and give back to our Youth by attending our Youth Derby held each year.  He sure could make you laugh and we will miss his spirit and laugh.  Mike you will be one fish God will keep in his arms forever and never throw back.
Tribute to Jay Hasbrouck October 25th, 2012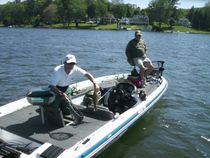 Jay Hasbrouck, a lifelong Newburgh resident, passed away at home on Thursday, October 25, 2012, after battling cancer.
Jay was a graduate of Newburgh Free Academy where he excelled in several sports. Upon graduation, Jay served in the United States National Guard.
Jay was an athlete and sportsman. He was an accomplished speed skater from the age of seven, holding many records and participating in the Olympic time trials. Jay loved the game of baseball and coached little league, Newburgh Nuclears, and at the College level with the Mount St. Mary's. He played on several softball teams within the city of Newburgh and is a member of the softball Hall of fame.
After retiring from a 33 year career with IBM, Jay happily spent much of his time perfecting his golf game. Jay also was an avid fisherman and competed as a member of the Black Rock Bass Busters. Jay especially loved volunteering over the last ten years for Habitat for Humanity of Greater Newburgh. He mostly enjoyed the camaraderie and great satisfaction of helping the many families through the great work of Habitat.
Jay is survived by his wife of 54 years, Martha. He is also survived by his four children: Jay A. Hasbrouck and his wife, Lori of Louisville, CO, Mona E. Haas and her husband, Jon of Saratoga Springs, NY, David J. Hasbrouck and his wife, Carla of Blaine, MN, and Dana A. Tumlin and her husband, Kevin of Athens, TN. Jay is also survived by his ten grandchildren: Cory and Jeremy Hasbrouck, Kaitlyn, Alexandra and Jameson Haas, Maxx, Jacob and Samantha Hasbrouck and Jason and Alice Tumlin as well as his great grandchild, Evelyn Fatuch.
In the short time I knew him he taught us more about life than about fishing.  While he always had great stories to tell, nothing was more impressive than the strength he showed all of us in the club, especially the last 6 months of his life.  I can still remember asking him how do you feel today Jay?  "How bad can I feel?   I'm fishing today!  This is a great day!"
Jay was a great fisherman, but he was a greater man!  He has given me and many others a wonderful example to follow.  He was unselfish and always thinking of others.  We were blessed to be able to fish and share life's stories.  If we listen carefully, we might just hear Jay say "get the net, get the net".  I know that Jay is one keeper that God won't throw back, but he will be forever in hearts for years to come.
Respectfully,
Brian S Smallhorn